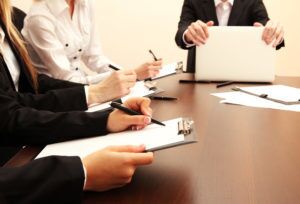 Starting up a new company certainly isn't easy, but hiring a corporate formation lawyer Roseville CA business owners trust may be incredibly beneficial. Even experienced businessmen and businesswomen may find that working with a lawyer provides additional support and stability throughout the process of creating a new business.
At Yee Law Group, PC, PC, we know how complicated it can be to start a new business. Having opened and operated our own law firm, we know that it's important to address various legal aspects when starting a new business.
There are several different business issues that might be addressed by a skilled corporate formation lawyer Roseville CA can provide:
Choosing a beneficial operating agreement. One of the biggest benefits of forming a corporation is that you may be protected under a limited liability clause. This could be very important if someone decides to file a lawsuit against your business, because it separates your own personal assets from the assets of your business. Even though it's not enjoyable to think about all the ways that your business might fail or get tied up in a lawsuit, planning for these events is an important part of any solid business plan, and it's something that a corporate formation lawyer in Roseville CA may be able to help with.
Finding the right liability insurance. Operating as a corporation is one way to protect your personal assets, but it's not the only way to ensure that you and your business are safe in a legal dispute. Liability insurance is an important part of a successful business model, because it can protect some of your business's assets in the event of a lawsuit or legal claim.
Keeping track of important documents for ongoing corporation status. Some business owners might think that creating a corporation is a one-time task. Ask a seasoned Roseville CA corporate formation lawyer about this, however, and you would likely learn that businesses must work consistently to maintain corporation status. This includes keeping track of relevant documents, providing this information to shareholders or government entities, and filing all necessary paperwork correctly and on time.
Filing taxes correctly. Even a small mistake on your taxes could potentially create several problems for your business. Special corporate tax rates may apply to your business, and it's important to know about these rates as you form your company. Even though certain federal taxes might be standard for businesses in all 50 states, your own business might be able to claim certain exemptions, or it might have to account for certain state-mandated taxes. Hiring a corporate formation lawyer Roseville CA has to offer, right as your business is beginning to form, is a good way to ensure that your business isn't paying too little or too much in taxes.
What might a corporate formation lawyer suggest that I should know when creating a company in Roseville, CA?
When our corporate formation lawyer advises clients in the Roseville, CA area, many areas of the law might be addressed in terms of how they could affect the client's new company. When you have questions or concerns about how to form a company in Roseville, CA, using methods that will reduce or eliminate liability and other risks, talk to our corporate formation lawyer Roseville, CA businesses trust..Yee Law Group, has served the Roseville, CA area for decades, and our continued dedication to providing the utmost in quality legal services has led us has enabled our firm to grow significantly over the years. Learn more about how our Roseville, CA corporate formation lawyer can assist you in forming a company.
Which Corporate Structure Is Right for My Company?
One of the most consequential decisions you can make when starting a business involves choosing a corporate structure for your enterprise. Why is choosing a legal classification for your company (profit or non-profit) so important? This categorization process affects everything from the way your company will be taxed to whether you (as the sole or part owner of that business) can be held personally liable for the company's debts and legal judgements. It is therefore important to consider this matter carefully and to explore your unique company's needs and vision with an experienced Roseville, California corporate formation lawyer before committing to one structure over the others. By working with the business law team at Yee Law Group, you'll place yourself in a position to make a truly informed decision about your company's legal structure.
Choosing a Legal Structure for Your Unique Company
No single corporate structure serves the interests of every company. An independent contractor who designs websites from home is going to have different needs than the shareholders of Facebook. As a result, there are four primary kinds of corporate structures available for aspiring company founders to choose from. Each features foundations that may serve some businesses well and others not at all. Only you will be able to decide which structure will work best for your vision. Thankfully, a Roseville, CA corporate formation lawyer can guide you through the decision-making process so that you feel confident in your choice to invest in one structure over the others.
Sole proprietorships and partnerships – These first two corporate structures operate very similarly, although sole proprietorships are owned and managed by a single individual and partnerships are owned by more than one individual (although many are managed by only one partner, while the others serve in financial and/or non-managerial capacities). Both sole proprietorships and partnerships are taxed at the individual income tax level, meaning that the business isn't taxed as a separate entity. There is also no liability shield that protects the personal assets of owners in the event that the businesses owe debts or are subject to legal judgements. What makes these models particularly attractive is that they have flexible management styles and are subject to few governmental oversight and reporting mandates. If you have questions about how a small or medium-sized business might effectively function under one of these two models, a Roseville, CA corporate formation lawyer can provide clarity.
Corporations – Corporations are distinct in that they are owned by shareholders and the company's functions must serve the interests of those shareholders. Unless a corporation is formed as an S-corporation, it will be taxed as a distinct legal entity. These companies have strict management requirements and are subject to a great deal of oversight and reporting requirements. However, large companies favor this model because it allows them to be publicly traded, which can be a lucrative setup.
Limited liability companies – This model serves as the "middle ground" between forming a corporation and forming a sole proprietorship or partnership. An LLC can have one or multiple owners (referred to as members), has a relatively flexible management style, is subject to less oversight and reporting requirements than a corporation and may choose to be taxed at the personal or corporate level. Notably, these companies offer members a personal liability shield from accountability for business debts and judgements. Whether this model or any of the others noted above seems like a good first option to explore, our Roseville, CA corporate formation lawyer team can help you learn about these models in more detail.
Can a corporate formation lawyer in Roseville, CA assist in making sure a company does not violate compliance laws?
Yes. Your business will have to conform to the laws of the State of California as well as municipal and federal laws. Depending on the nature of your business and the number of employees you will have in your company, maintaining compliance can be complicated and violations severe. Our Roseville, CA corporate formation lawyer assists companies in and around the Roseville area; thus, making sure that they are in compliance and understand in which areas they may be vulnerable. Compliance risks include health and safety violations, anti-discrimination laws, wages, and possibly immigration requirements.
What should a corporate formation lawyer in Roseville, CA include in my company's operating agreement?
This will depend on the company and the nature of its business. One of the priorities that our corporate formation lawyer will focus on when assisting a client is taking the time to learn about them and what will be beneficial to include in their company operating agreement, as well as their bylaws. These important documents will include guidelines on how the company should run, how decisions should be made, how often shareholder meetings must be held if applicable, issuing stock, and much more.
Is it possible for a Roseville, CA corporate formation lawyer to help me protect my intellectual property?
Intellectual property is highly valuable to a company and may be the mainstay of its business which is why it's important to protect it. Our Roseville, CA corporate formation lawyers can help you protect your company's slogans, name, logo, packaging, products, and much more. We assist in the preparation of trademark, copyright, and patent applications and the submission of all required documentation to the U.S. Patent and Trademark Office.
Will I need a corporate formation lawyer to draw up contracts for my Roseville, CA company?
While a corporate formation lawyer is not required, it may be beneficial to hire one to ensure that your company is in compliance with all laws that affect Roseville, CA businesses. In most cases, our attorney can draw up the contracts you need which can then be repurposed for a period of time rather than creating new ones for each situation. Talk to our corporate formation lawyers at Yee Law Group to learn more about this process.
To discuss your legal needs with our corporate formation lawyer in Roseville, CA, give us a call today.
Contact a Corporate Formation Lawyer Roseville CA Businesses Depend On
At Yee Law Group, PC, our legal team is dedicated to serving the community of Roseville. As a local business ourselves, we believe that it's important to provide exceptional and trustworthy legal counsel to individuals in the surrounding region who wish to start up new businesses. Not only does this improve our local economy, but it also provides a stronger sense of cooperation and responsibility within the community.
Client Review

"I recently visited the main office of Yee Law Group in Land Park, Sacramento. The lawyers and their support staff were all so friendly and inviting. The office space is recently remodeled with a clean, bright, modern look. Michael was timely for our meeting and made me feel welcome, valued and safe. I would definitely recommend this office for your estate planning and probate matters. It is so priceless to have a strong, kind legal team with you to navigate trust and estate documents. A+ to Michael and his team!"
Amanda Key