After the death of a loved one, many families find that they need to search for a probate lawyer Sacramento, CA residents trust. There are several reasons why it may be necessary to go through probate court — and there are also several small ways that your family might be able to avoid doing so.
At Yee Law Group, we know that the processes involved in the probate court can be very overwhelming. It's our mission to help families get through this difficult time with as few hiccups as possible. When you need a respected probate lawyer Sacramento, CA has to offer, we're proud to be a local source for trusted legal counsel.
What is probate?
Probate is the process of authenticating a deceased individual's will through the court. The overarching goal of probate is to make sure that the deceased's estate is passed on to the rightful heirs while making sure that any remaining debts have been settled. Unfortunately, as a seasoned probate lawyer in Sacramento, CA might attest, the process is rarely simple. Even a small estate could warrant a lengthy probate process, particularly if an individual's will is contested or if there was no will at all.

Important Steps in Probate
There are several facets of probate court. If you are facing probate, you might have to address all of these issues or you might only have to address a few. Additionally, it's important to note that probate legislation varies depending on state and municipal regulations.
Some common steps in probate include:
Having a judge authenticate a will and determine that it is valid

Identifying and locating the decedent's assets

Identifying and alerting creditors of the individual's death

Paying off any remaining debts

Filing tax returns

Distributing the decedent's estate to heirs
If you have any specific questions about what you can accomplish in your own regional probate court, it is advisable to speak with a local probate lawyer Sacramento, CA can provide.
Is Probate Avoidable?
Because the probate process is so lengthy and time-consuming, many elderly individuals want to get their affairs in order for their family members. One of the simplest ways to help family members avoid probate court is to create a living trust. A living trust allows you to move your assets out of a probate estate and into a trust. This trust can be easily managed by any trustee that you name.
Another way to help family members avoid probate is to create joint ownership of property. This may be a viable option for certain assets, such as real estate. Some individuals choose to name a younger relative or trusted friend as the joint owner; this second owner would automatically receive full ownership of the asset when the original owner passes.

Questions To Ask an Affordable Probate Lawyer
1. What Does an Initial Meeting Entail?
Before you choose an estate lawyer in Sacramento you want to inquire at different offices to figure out which attorney might be best suited for your situation. Asking different attorneys what their initial meeting will include and how much it will cost will be an important question that will help narrow down your search considerably. You want to walk into your first meeting knowing all information and documentation that you will need to have and all the points that will be covered. Yee Law Group has years of helpful experience so that your mind can be set at ease during your first estate planning consultation.
2. What If I Need To Make Changes?
It is incredibly important that you understand how any estate attorney handles changes that might need to be made to your estate plan. When hiring an estate lawyer in Sacramento you want to choose an office that is capable of handling any alterations to the initial plan you might formulate. Yee Law Group knows it is impractical to think that nothing in your situation will change over the course of the rest of your life. You want to know in advance how to go about making changes and make sure you are comfortable with how the lawyer's office regularly addresses changes.
3. Do You Conduct Periodic Reviews?
Sometimes attorneys are known for completing a transaction request or contract for a client and then all communication ends. When it comes to estate planning that isn't the type of lawyer you want to sign up with. The best estate law offices have protocols for conducting regular reviews of the estates they handle to make sure that everything is still in good shape and that the plan will still be effective if you were to pass away. Find an estate lawyer in Sacramento that is committed to making sure their client's estates are always current.
4. What Happens If Your Business Changes?
This last question is not one most people think of, but you want to think in advance and consider a less than ideal scenario. If your lawyer retires, moves, or for some other reason goes out of business you need to know what will happen to all the work they have done for your estate plan. Basically, you want to know their backup plan so that your information and estate will still be taken care of.
Sacramento Probate Infographic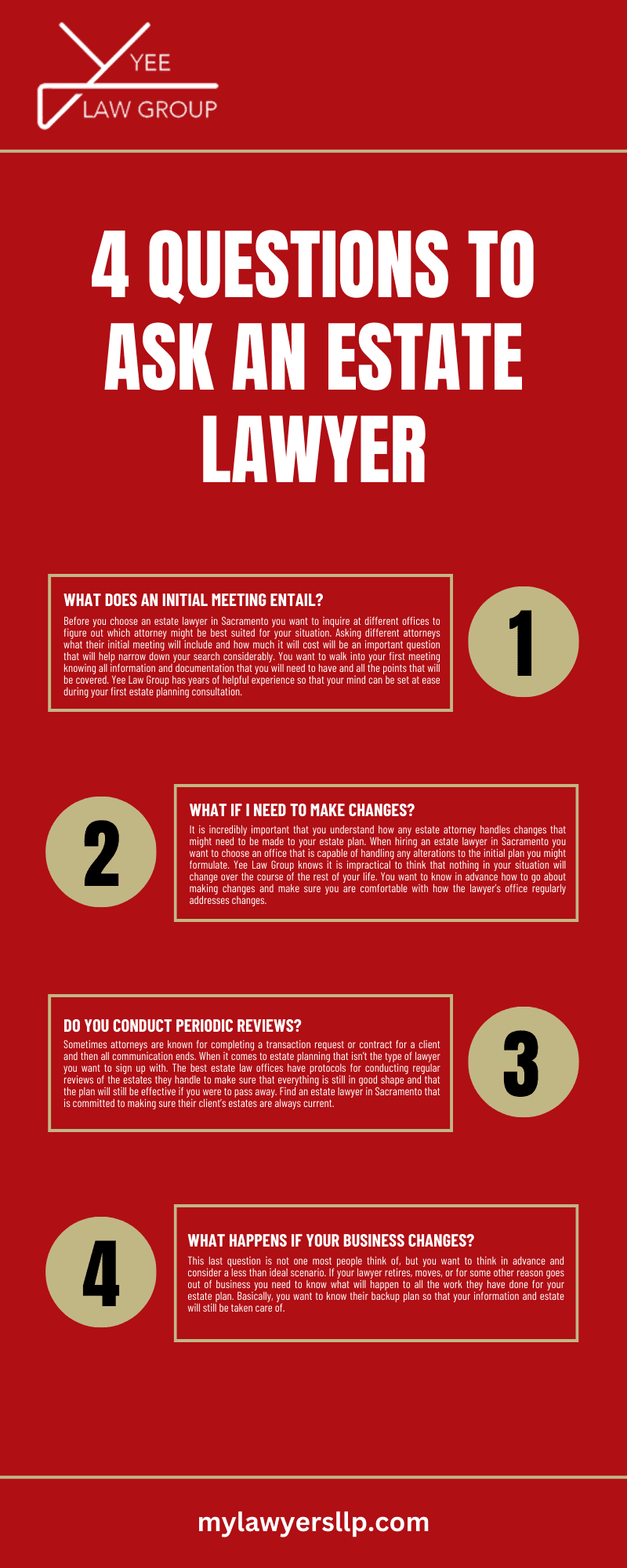 Contact an Affordable Probate Lawyer Sacramento Families Rely On
If you are interested in speaking with a Sacramento probate lawyer about the probate process — or about how to avoid it, Yee Law Group would be happy to schedule a consultation with you or your family.
For more information or to speak with a probate lawyer Sacramento, CA residents trust, contact the Yee Law Group today at 916-927-9001.

Common Myths About Probate
Probate is a complex area of law, so there are naturally many understandings about it. Before you begin the probate process, it's important to be able to separate truth from fiction. Here are a few common myths about probate a probate lawyer in Sacramento, CA sees.
Probate Frequently Takes Years
One thing that puts many people off about probate is that they assume it always takes years to complete. It is true that the process will take some time because creditors must be given time to file claims against an estate for outstanding debts. However, it rarely takes as long as people think. In fact, as a probate lawyer in Sacramento, CA can confirm, the process typically takes between five months and a year. In rare cases, probate can take longer. For example, if the estate is very large or there are family disputes, the process could take over a year.
Having a Will Helps You Avoid Probate
A will allows you to specify which heirs will receive your assets and who will be in charge or carrying out your last wishes. However, as a probate lawyer in Sacramento, CA can attest, it does not mean that your estate will avoid probate.
Probate Is Very Expensive
Another fear some people have about probate is that it is very expensive and will eat up all the assets in an estate. While probate does come with fees, they are usually less than 5% of the value of the estate. In the majority of cases, a probate lawyer in Sacramento, CA can file a probate case for just a few thousand dollars.
A Living Trust Is Simpler and Cheaper Than a Will and Probate
A living trust is a legal document that allows you to transfer your assets to your trust during your lifetime and use those assets for your benefit. Although a living trust lets you avoid probate, it costs more than a will and can be quite complex. It is important to speak to an experienced lawyer before deciding between creating a will or trust. For example, if you own property outside of your estate, establishing a living trust may be ideal. Otherwise, your family may have to probate two different estates, which can get quite complicated.
A Trust Is the Only Way to Avoid Probate
Creating a trust is one way to avoid the probate process, but it certainly is not the only way. For example, if your property is held in a joint tenancy, the other owner may be able to avoid probate. Another way a probate lawyer in Sacramento, CA suggests avoiding probate is giving away property before you die. However, understand that you will no longer have use of the property once you give it away as a gift.

What Should I Do After a Loved One Passes?
Yee Law Group works with families to ensure the legal pieces are in place prior to their death. As an estate and probate lawyer in Sacramento, CA we assist in preparing for a smooth transition of assets, aid in reducing taxes, and ensure a person's wishes are carried out. Sadly, many families in California will lose a loved one without having planned anything in advance. When this happens, loved ones will face a number of administrative challenges while trying to cope with the grieving process. Even when a plan is in place, it is possible for overwhelming feelings of confusion to cloud one's mind.
Due to the complications of handling an estate after losing a loved one, it is worthwhile to discuss some of the basic things that should be done after a family member dies. If you are still unsure about what to do after reading this, reach out to Yee Law Group.
Notify Authorities
As soon as the death of a loved one is discovered, authorities must legally be notified. This task could fall to a family member or friend, depending on the situation. If the death happened at a healthcare facility, employees may be able to take care of this. In general, if a person died at their home, 911 should be called. Time is of the essence. For example, if the person is an organ donor, there is a limited amount of time that can pass before organs are unusable. Talking about these things ahead of time is always a good idea. A lawyer will likely discuss this during the estate planning process which is another reason to not avoid it.
As soon as the authorities have been notified, other loved ones will need to be contacted. From this point any immediate needs, such as taking care of pets, locking up the home, and other matters should be handled. Funeral arrangements should begin. IDeally, a will or estate plan will outline the individual's wishes. For example, how would they like to be buried, have they already purchased a cemetery plot, and so forth? Most funeral homes will also assist with this part of the planning process.
Once the funeral services are completed, the legal and administrative process will begin. At this point, the death certificate must be filed with the court and an executor is to be named. In the best case scenario, the executor will have been appointed in the estate plan, and prior to the death. They should be aware of their tasks and ready to complete them. If no executor has been named, the court will name one.
The executor will have many tasks. These include:
Contacting creditors

Communicating with those in charge of financial accounts or documents

Working with insurance companies

Gaining access to financial accounts

Calling the Social Security Administration

Cancelling services or accounts

Handling any issues with the DMV

Setting up mail forwarding with the USPS

Filing the previous year's taxes

Paying any owed taxes or debts

Locating assets

Valuing or selling assets

Distributing assets

+ More
As you can see the process can be overwhelming which is why more people are hiring a probate lawyer in Sacramento, CA to assist with the process. Call Yee Law Group for more information.

Myths About Probate
Several myths have circulated for years regarding probate court proceedings. As a result, some individuals assume that particular claims are correct. However, unproven or exaggerated information can have an adverse effect on an individual's perception. Read further to find out how to distinguish between fact and fiction.
Myth #1: An Affidavit Guarantees the Designated Beneficiary Will Win in Court
False. A beneficiary isn't a validated executor or administrator. In reality, they may have to go through court unless estate planning occurred before death. Therefore, a stable plan can help specific assets remain out of the court system. For example, you can use a trust if particular properties to are transferred to you. If you want to learn more about this method, you can contact a probate lawyer in Sacramento CA, to inquire.
Myth #2: Legal Proceedings Take Years to Resolve
False. Typically, probate does not last an extensive period. Usually, the only delay occurs when creditors receive time to file claims against the estate. In that case, an executor can close an estate after paying debts and taxes and distributing assets.
Additionally, if a decedent has no lenders and their Will has no opposing relatives, assets can be distributed within several months. In contrast, creditors can claim the estate if an individual passes while in debt. The Yee Law Group can connect you with a probate lawyer in Sacramento CA, to help you assess your situation to decide what approach is best for you.
Myth #3: Probate Hearings Are Challenging
False. In most cases, probate is a procedure most estates go through with few issues. It's unnecessary to anticipate complications if you have documents that detail all of your loved one's wishes. Professional attorneys at the Yee Law Group understand that preparation is crucial. Remember, the more sophisticated the plan, the higher the possibility of a contest.
Myth #4: The Oldest Child Must Serve as Executor of Their Parent's Estate
False. A parent can designate anyone they choose to serve as executor of their estate. In some cases, the eldest child may not be the most responsible individual to handle specific affairs, which is possibly why a younger child is an initial choice. However, if an executor is named, the court can appoint that individual unless it finds a rational reason not to follow the decedent's instructions.
While a probate lawyer in Sacramento CA may agree to represent you, they also need to know if you're reliable to handle your loved one's affairs.
Overall, mythological probate tales are commonly believable to individuals who don't understand the legal process. Not only can assistance from a reputable attorney enlighten you, but it can also help you approach your case wisely.
How to Work With a Sacramento, CA Probate Lawyer
If you need the help of a probate lawyer in Sacramento, California, you may wonder if that experience is similar to working with lawyers in any other setting. Perhaps you have needed a family lawyer or an attorney for your business. However, when you need a probate lawyer you need legal help for an entirely different area of law and we would like to make this experience as smooth as possible. We are here to answer any questions you have and help you with these legal matters. To set up your appointment with our trusted Sacramento, CA probate lawyer, please give our office a call now.

Questions You May Have as an Executor in California
If you've been named as an executor of someone's will, you might be wondering what that means. While circumstances are usually unique from case to case, there are some commonly asked questions surrounding what being an executor entails.
What is an executor?
When a person creates an estate plan or will, they can name someone to act as their executor. This is a person they choose to carry out the wishes they've named in their will. If you've been named an executor, that means the person who has passed trusted you to wrap up their estate, distribute their assets and handle their affairs.
What will I have to do?
There is often confusion about what will be involved in settling an estate for someone. Confusion surrounding this process can be addressed by speaking with a probate lawyer in Sacramento, CA. Because California probate law is complicated, taking time to talk to someone who has experience with these matters, like the attorneys at Yee Law Group, can be incredibly helpful.
No two executors' duties look exactly the same, but you can expect to handle things like inventorying the assets of the estate, obtaining the death certificate, notifying creditors, and paying bills associated with the estate.
You may also need to obtain a copy of the decedent's will, communicate with beneficiaries, and keep detailed and accurate records of costs.
Where should I start?
Getting the probate process started should be the initial focus of your role. This is the process where a court determines if the decedent's will is legitimate. The probate court will also officially appoint you as the executor of the will. Due to the specific and complex nature of California estate laws, a probate lawyer in Sacramento, CA may be the best option if you are unsure of how to proceed.
How long will it take?
Determining the length of time this will take is exceptionally difficult. If the estate is small, the process may be wrapped up within a matter of months. However, large estates that need to be settled could take over a year. The amount of time that you will need to invest is highly personalized to the will you are executing.
Will I receive compensation?
California laws do allow executor compensation based on the value of the decedent's estate. Once the total value of all assets is calculated, you will receive a percentage as payment for your duties. For the first $100,000 of value, an executor collects 4%. The percentages decrease incrementally as the value increases. However, in cases where the assets total over $15 million, the court will determine an appropriate amount of compensation. You can reach out to a probate lawyer in Sacramento, CA if you have questions.
Executing a will is a time-consuming and stressful process, so help from a law firm like Yee Law Group is a good idea. Navigating the complicated world of California probate law isn't easy, so remember to get help if you find yourself getting overwhelmed by the process.
Are there different levels of help that you can offer?
Absolutely. Our affordable Sacramento probate lawyer is here to help you. This means that there are usually two levels of help that we can offer:
We want you to know that when you work with us we are here to answer your questions and work with you on whatever your probate needs are. If you would prefer to take the lead on the probate process, we can be there to guide you instead of handling the majority of the probate process ourselves. In some instances, our probate lawyer in Sacramento, CA has seen probate cases that go fairly smoothly: none of the family fights over anything in the will, and the paperwork is relatively simple to fill out. When this is the case, you may wish to work with us in a limited capacity, coming to us for questions and basic needs.
However, many people choose to work with us to a fuller capacity, using our knowledge and experience to their benefit. While you are still responsible for certain aspects of the probate process, you can rest a little easier knowing that filing paperwork, meeting deadlines, and handling different legal tasks will be conducted by our office. When this is the route you want to take, it is important to discuss with our team what your expectations are, what the probate process usually looks like, and who will be handling certain tasks.
If you have no experience going through the probate process and would like to work with our dedicated Sacramento, CA probate lawyer from the Yee Law Group, please give our office a call at your earliest convenience.
---
Client Review
"Mike Yee and his team are amazing. They are fast and efficient, but you don't feel rushed at all when meeting with them. Mike in particular is extremely patient, knowledgeable and articulate, and made the whole process as pleasant as writing legal documents can be. Highly recommended."
Gerald Quon