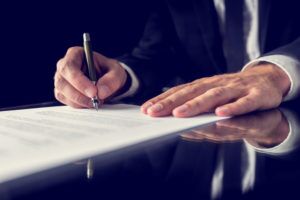 If you are looking to create a trust and have questions about the sometimes confusing legality of forming this document, contact a Folsom living trust lawyer at the Yee Law Group today. Living trusts are designed to avoid having probate hearings like you would if you wrote a will. A probate hearing is when the case must go to court to divide up the assets of the deceased. This can be an extremely costly process that can take months to finalize. A trust will directly transfer assets to the heirs listed in the document rather than having to go to court. The process is much more efficient and is usually completed in a matter of weeks as opposed to months of trials. Having a living trust can have other benefits such as reduced taxes, ensuring financial privacy, and regulating the use of assets. If you are considering creating a trust, ensure it is done correctly with the advice of a Folsom living trust lawyer who has experience on the subject of trust law.
There are several things you will want to keep in mind while creating a trust to ensure that it is done properly and is legally sound. You should contact a local Folsom living trust lawyer at the Yee Law Group directly to have a more detailed and comprehensive understanding of the process.
List Your Assets
Compiling a list of all your assets is the first step in forming a trust. You want to ensure that you have a comprehensive list that covers everything you own. These would be items like real estate, jewelry, cars, stocks, life insurance policies, and artwork. Having a complete list of your assets can help you to decide how you would like to divide them up. If you have questions about what you should include in your trust, seek the advice of a Folsom living trust lawyer to receive more information.
Get Your Paperwork In Order
After you have made a full list of assets your next step is to find the corresponding paperwork. These would be policies, titles, and deeds that confirm your ownership of the assets you have listed. This paperwork will need to be turned over to your reliable living trust lawyer in Folsom for review so it is important to ensure you have it ready so the process can be as efficient as possible.
Name Beneficiaries and Successor Trustee
It is important to leave detailed information on who your assets should be left to. A living trust lawyer Folsom counts on will need to have any information regarding beneficiaries you have named previously that may conflict with your trust. Having conflicting beneficiaries may lead to legal ambiguity later on. You should also name yourself the trustee so that you can remain in charge of your assets throughout your lifetime. Naming a successor trustee will determine who carries out your instructions upon your death.
If you plan on creating a living trust you should ensure it is done properly with the help of a reliable Folsom living trust lawyer. Call the Yee Law Group today at 916-927-9001.
Revocable Versus Irrevocable Trusts
You've created a nest egg, own a home, own a life insurance policy and have acquired a number of possessions. You want to be certain that all that you have amassed gets to the right heirs in a smooth and timely matter. You've been told you need to create a trust but have no idea where to begin, or who to contact. The law firm of the Yee Law Group, Folsom living trust lawyers have years of experience answering your questions and creating the right trusts for you and your loved ones. But wait – you mean there are different types of trusts? Let's start with the basics.
What is a trust and why do I need one?
A trust is a document put in place to protect your property for your beneficiaries, with the objective to reduce the liability of estate tax and avoid going through probate. Having a trust with a Folsom living trust lawyer lets your assets be transferred in a more timely manner than through the use of a will. A trustee is a person you select to administer the conditions of your trust exactly as it is specified.
There are several different types of trusts, but for the purpose of this article our Folsom living trust lawyers will explain the differences between a revocable and an irrevocable trust.
Revocable Trust
It is called revocable because your assets are under your control while you (also known as the 'grantor') are alive. Another name for a revocable trust is a living trust. It allows for more flexibility, and can be changed or eliminated should something occur to change your circumstances. A revocable trust generally becomes irrevocable once the grantor (you) dies because you are no longer alive to make changes to it.
While you are alive, a revocable trust acts like your other assets, meaning you are still liable to pay estate taxes. Revocable trusts do not protect you against lawsuits that may be filed against you. A Folsom living trust lawyer will tell you that these factors need to be considered when deciding to create a revocable or irrevocable trust.
Irrevocable Trust
If the main objective of your trust is to decrease the tax liability on the income you receive from certain assets, an irrevocable trust may be the way to go. Your Folsom living trust lawyer will assist in helping you to carefully consider which assets should go into an irrevocable trust. The irrevocable trust takes assets out of your estate to avoid probate and estate taxes; however, you will be unable to change anything once the trust has been executed. Unless under certain rare conditions, you will not be able to terminate the trust.
Once your assets reside in an irrevocable trust, you are no longer the owner of these assets – the trust is the owner. Creditors or anyone that may file a lawsuit against you cannot take property that is in an irrevocable trust. A Folsom living trust lawyer wants you to know that an important reason to consider an irrevocable trust is that because your assets are in the trust, they do not count against you when qualifying for government benefits. If a long-term care facility is in your future, these assets are protected from being depleted.
To learn more about which trust to create and for qualified, trusted assistance to help you maneuver through it all, please contact the Yee Law Group, PC a Folsom living trust lawyer you can trust.
4 Questions To Ask During Your Trust-Related Consultation
Planning for your final arrangements and finances before you pass can ease the burden on your family members who must otherwise make serious decisions while grieving. Living wills have become popular for those who want to make their final wishes known, as have revocable living trusts. If you are interested in making such a trust, there are a few questions you might want to ask a Folsom, California living trust lawyer from Yee Law Group before you sign off on this important document.
Isn't a Revocable Trust a Will?
Not exactly. But, like a will, a revocable trust can be edited depending on when and how your life's circumstances change. For example, if you were divorced but have remarried and had children with your new spouse, you can change your trust to include these new heirs, make changes to previous wishes and name your new spouse a major beneficiary. If you have questions about the ways in which various estate planning tools (like wills and living trusts) differ, please ask your Folsom, CA living trust lawyer during your consultation.
What Do I Include in the Written Trust?
As you prepare to create your living trust with the help of your Folsom, CA living trust lawyer, it is wise to bring a list of property you want to include. Cash, bank accounts, vehicles antiques and jewelry can all be listed in the trust, as well as the names of individuals who will inherit these items. Be sure to state your intentions clearly, as this can help prevent messy probate court disputes after you pass.
How Do I Include Real Estate in My Trust?
You may want to add real estate holdings to your revocable trust; however, it is important to understand that the title must be transferred to the trust itself before you can will it to someone. This type of trust can be useful in matters of real estate, as although you can modify who inherits the property as circumstances change, the title remains in trust and does not need to be transferred.
How Is a Revocable Trust Helpful To Me?
When people pass away without a will, the property and money they left behind often become tied up in a court battle that can last for years. A revocable trust can prevent this and outline in firm language how you want your final affairs handled. You can also add or omit people from the trust while you are still living and make your reasons known to prevent family arguments, which often happen once an individual has died and leaves behind more questions than answers. A revocable trust can help you arrange your final affairs and ensure your property is divided fairly once you pass on. For more information on how to create this type of trust and other estate planning tools, ask your Folsom, CA living trust lawyer as many questions as you may have during your consultation with our firm.
Client Review

"I recently visited the main office of Yee Law Group in Land Park, Sacramento. The lawyers and their support staff were all so friendly and inviting. The office space is recently remodeled with a clean, bright, modern look. Michael was timely for our meeting and made me feel welcome, valued and safe. I would definitely recommend this office for your estate planning and probate matters. It is so priceless to have a strong, kind legal team with you to navigate trust and estate documents. A+ to Michael and his team!"
Amanda Key